Affordable computing by rotating bits at 3700 rpm.
In July 1956, when IBM was still considering its answer (which was to become the IBM 1401) to the French challenge that was the Bull Gamma 3 (1952), then posing a serious threat to IBM's monopolic line-up of punched card appliances, Librazette, Librascope's employees' and PR gazette, proudly announced that the company's new LGP-30 computer had been promoted to production.
The computer had been developed by Stan Frankel as the MINAC at CalTech in 1954 and Librascope had bought Frankel's design (apparently in the same year), releasing it as the LGP-30 in 1956. (…)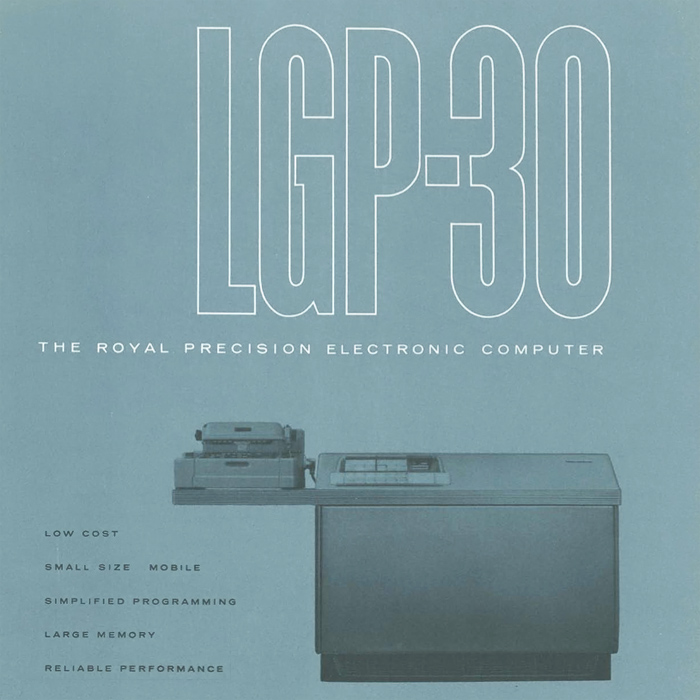 The computer generally known as the Royal McBee LGP-30 was a desk-sized appliance and weighed in at about 800 pounds (360 kg). It came with a Flexowriter-style console typewriter and consisted internally of just 113 vaccum tubes, 1,450 solid state diodes, and a magnetic drum for memory (4K of 31-bits words) and 3 registers. It plugged into an ordinary wall socket, from which the combined circuitry drew up to 1500 Watts. All this could be yours for just US$ 47,000 ($433,000 in 2018), which was actually the first viable option for small-to-medium scale computing.